By Steven Froias
#NBCreative Writer-at-large
The Biennale Internazionale Dell'Arte Contemporanea, also known as the Florence Biennale, is an art exhibition held in Florence, Italy since 1997. It has been held every two years in the exhibition spaces of the Fortezza da Basso. The exhibition is held under the patronage of UNESCO (the Italian Commission), European Parliament, Italian Ministry of Culture and Tourism, Tuscany Region, and Municipality of Florence. 
The list of the famous participants include Marina Abramović, David Hockney, Christo & Jeanne-Claude, Gilbert & George, Anish Kapoor, El Anatsui….
…and this year, New Bedford's Dena Haden!
That's right. The artist most commonly known as the director of the Co-Creative Center at 137 Union Street, downtown New Bedford is, as many know, also an accomplished fine artist.
"An installation and fiber artist who uses found wood, metal, fiber, wax, plant materials and kombucha culture to explore the natural cycle of something coming into form, living, ever-changing and malleable, and the residue it leaves in passing," as written in her artist's statement.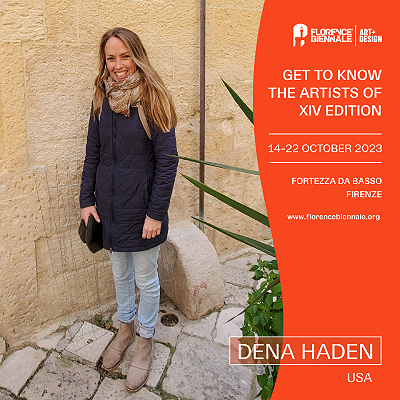 Dena Haden passed through Italy for a two-week residency, she explains, and as part of the work she did there, folks from the Florence Biennale caught her art. Impressively, rather than submitting work to the exhibition, she was asked to participate in the XIV edition of the biennale which will be held from 14 to 22 October 2023. She was invited by curator Prof. Pasquale Celona, a member of the International Selection Committee. 
"The days of the Florence Biennale are characterised by a rich programme of events, performances, workshops, talks and the presence of guests of honour," according to the English translation of its website. Haden will be there in Italy to install her work and be in attendance while thousands of people attend the event.
It makes for a rewarding if hectic autumn for Haden, because she's busy at the Co-Creative Center. It's an arts and culture powerhouse in downtown New Bedford, providing studio space to multiple artists and creators. It's also home to its own exhibit space, and numerous workshops and special events throughout each and every month.
Haden is an ARTnet #NBCreative awardee – and that helped make her Italian adventure possible. In fact, the official sponsor of her work at the Florence Biennale is New Bedford Creative at the New Bedford Economic Development Council.
She's definitely made the most of the grant and bestowed some international cache on art out of New Bedford.
The Lifetime Achievement Awardees of the XIV Florence Biennale 2023 are the world-renowned American photographer and film-maker David LaChapelle and the Spanish architect, artist and engineer Santiago Calatrava, who will attend the event to receive the award, give a speech, and exhibit their works.
But we think the achievement of New Bedford artist Dena Haden is award-worthy and does the city, and all of #NBCreative, proud.
Bellissima!