New Bedford's annual Seaport Art Walk was founded in 2013 by artist Jessica Bregoli, and was the city's first large format outdoor public art installation. Each summer, sculpture and murals are strategically placed along New Bedford's working waterfront and Seaport Cultural District.
This year's theme – "Tides and Time" – welcomed artists to create artwork that reflects or comments on our ever-changing climate, whether that be the ocean, environment, economy, politics, social justice, etc. This juried outdoor exhibition. along the working waterfront in the Seaport Cultural District, will be on view July through October.
This year's 2021 exhibition "Tides and Time," is presented by New Bedford Creative, in partnership with DATMA's WATER 2021, New Bedford Fishing Heritage Center, and New Bedford Parks, Recreation and Beaches. It is funded in part by New Bedford Cultural Council, a local agency which is supported by the Mass Cultural Council, a state agency, as well as the city of New Bedford's Arts, Culture and Tourism Fund, and Bristol County Savings Bank.
Meet the Artists
Alanna Boucher on her "Hashtag Change" sculpture: "Change is constant. Today we must reach the young generations who will shape our future. This hashtag sculpture is here to bring awareness to ideas and topics teens find important.  Change is a constant evolution of remembering old ways and supporting the new; whether it is about taking care of the planet, ourselves, or helping others, change is growth. Time is not going to stop or slow down so we must keep pushing everyday to better this world and work towards changing the future for generations to come. Please share what you want to bring awareness to on social media and remember to hashtag key words from this sculpture to spread awareness. Thanks to Chris Boucher who helped build and install the sculpture and to the New Bedford High School students and art teachers who designed planks."
Marcus Cusick and Kyle Couture of Open Eye Movement, working with Chief George Spring Buffalo and Chief Daryl Black Eagle of the Pocasset, presents "The Heirs of the Land," a mural that brings to light the true histories that surround the Pokanoket nation. The Algonquain language was nearly lost to oppression of a people and their culture, and is kept alive today by the descendants of a nation who first greeted the pilgrims, The Pocasset Wampanoag tribe of the Pokanoket nation. The mural aims to depict portraits of local Native American chiefs and their descendents showing how, over time, the nation was resilient and able to survive. The backdrop includes a landscape composition of layered text of Algonquin words and titles.  
When Jake Ginga was 19 he got a job working for a small oyster farm run by a family who had been shellfishermen for over four generations. They taught him everything — about family, hard work, and aquaculture — at an age and time he needed it most. January of 2021 claimed the lives of two of them, the father and grandfather who were both irreplaceable father figures. His very first artwork displayed in New Bedford galleries were portraits of them. In an attempt to process his grief, he is creating portraits of them again entitled "The Bell Brothers." 
Eric Lintala's fiberglass and metal sculpture titled "Enough is Enough" represents many aspects of this year's theme, "Tides and Time." Eric says: "There are many injustices that still plague our country and that exist around the world. We make speeches, we march for human rights, social injustice, environmental issues, etc. and still the never ending fight goes on. My sculpture symbolically represents all people and all concerns and hardships we bring to ourselves and to this planet, it visually gestures ENOUGH IS ENOUGH!"
Not part of this year's exhibit, but a fixture at the bottom of Centre Street is Eric Lintala's work "I am the Walrus, I am the Hunter." Lintala, who recently retired after over 30 years teaching at UMassD College of Visual and Performing Arts, originally created this 15-foot fiberglass and aluminum sculpture in 2010 as part of the New Bedford Whaling Museum's outdoor sculpture collaboration called "In the Unequal Cross-Lights," inspired by a passage from Moby Dick. He drew inspiration from the Whaling Museum's collection, combining imagery such as a harpoon, a hand-carved walrus mask from the arctic region, a two-sided ivory comb that evoked skeletal whale vertebrae, snow goggles, and a wooden spoon of unknown origin. He said: "For me, these objects magically coalesced into a shamanistic manifestation of a whaleman's past arctic adventures." 
Erin Meade, an art teacher at Keith Middle School in New Bedford, has always loved the simplicity of window installations. She put her passion for display and creativity to good use working in New York City with industry favorites such as Macy's, SAKS Fifth Avenue as well as small boutiques. Her design of a 30-foot installation entitled"CAPping the Wave" incorporates all different types and sizes of plastic bottle caps to create movement and playfulness through a wave and whale form. This is a recycling project that the students of Keith Middle School have contributed to, as well as an opportunity to show the community that even trash can be turned into a beauty.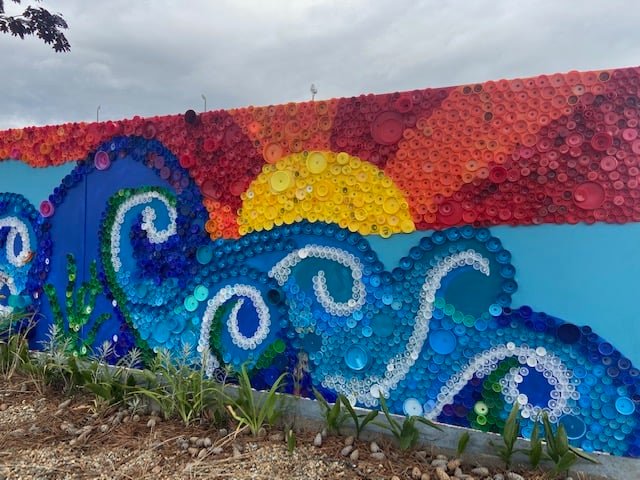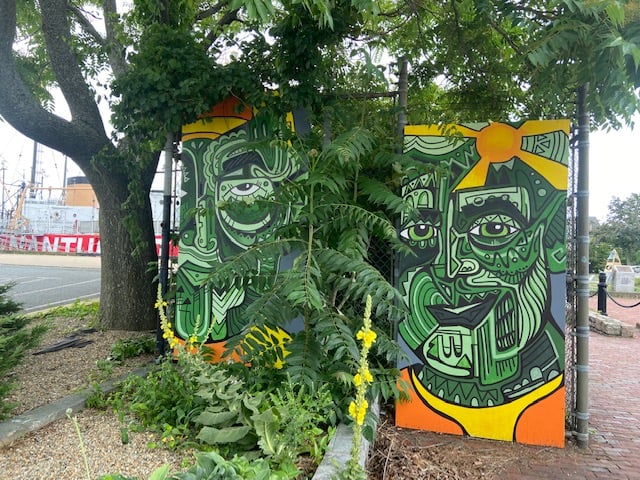 Seaport Art Walk through the Years
2020: Lighting the Way: Historic Women of the SouthCoast
Jessica Bregoli, "Maria Mitchell's Waves"
Bruce Bailey, "Homage to Florence Eastman, Army Nurse"
Ramiro Damaro-Comas, "Lighting the Way Mural"
Grace Lang, "Votes for Women"
2019: Whirlwind of Art
Elizabeth Bell, "New Bedford Clothesline"
David Cardenas, "Lost in the Wind"
Laura Franco, "Triptych of Thaumatropes"
Alesia Guzman, "Winds of Hope"
Bianca Laslo & Paige Smiley, "Wind in Mind"

Melony Poirier, "Cat's Tail"
2018: Freedom & Equality: the Bicentennial of Frederick Douglass
Tracy Silva Barbosa, "Same Window, Different Day"
Julie Bardon, "Log Cabin"
Alanna Boucher & Jessica Bregoli, "The Weight of History"
Justin Cifello, "Mixed Messages: Beacons of Welcome, Windows for Those Yearning to Breathe Free"
Donna Dodson, "Madam President: A Monument to the First Female President of the USA and to the Dream that Every Girl can become the President of the USA"
Eric Lintala, "Shackles Broke – Free at Last"
Melony Poirier, "The Missing Piece"
Lauren Savoia & Youth Leadership Academy, "YLA Fight for Freedom and Equality"