New Bedford's annual Seaport Art Walk was founded in 2013 by artist Jessica Bregoli, and is the city's first large format outdoor public art installation. Each summer, sculpture and murals are strategically placed along New Bedford's working waterfront and Seaport Cultural District.
Seaport Art Walk is facilitated by New Bedford Creative, housed at the New Bedford Economic Development Council, and a collaboration with the City of New Bedford's Parks, Recreation and Beaches, Destination New Bedford, Massachusetts Design, Art, and Technology Institute (DATMA), New Bedford Fishing Heritage Center, UMASS Dartmouth's College of Visual and Performing Arts (CVPA), and Bristol Community College (BCC) Visual and Performing Arts Department.
This program is supported in part by a grant from the New Bedford Cultural Council, a local agency which is supported by the Mass Cultural Council, a state agency, as well as the City of New Bedford's Arts, Culture and Tourism Fund, with additional support from Bristol County Savings Bank.
2023 Seaport Art Walk
In 2023, we are celebrating the Seaport Art Walk's 10th anniversary! To mark the 10th anniversary, artists were invited to submit proposals for both new and pre-existing artwork that celebrates this milestone year for the Seaport Art Walk, comments on our city's ever-changing artistic and cultural landscape, or commemorates the generations of creatives that have called New Bedford home. 
Artists were also encouraged to take inspiration from previous themes of the Seaport Art Walk, including Open Spaces (2022), Tides and Time (2021), Lighting the Way: Historic Women of the SouthCoast (2020), Whirlwind of Art (2019), Freedom and Equality: the Bicentennial of Frederick Douglass (2018), Sustainable Oceans (2017), Cultural Aspects (2016), Nautical Nuances (2015), The Sea in Stone (2014), and Inaugural Year (2013).
Most artworks are available for purchase, and we are booking private group tours on a limited basis. If you are interested in purchasing a piece or booking a tour, please contact Zane Cox at zcox@nbedc.org.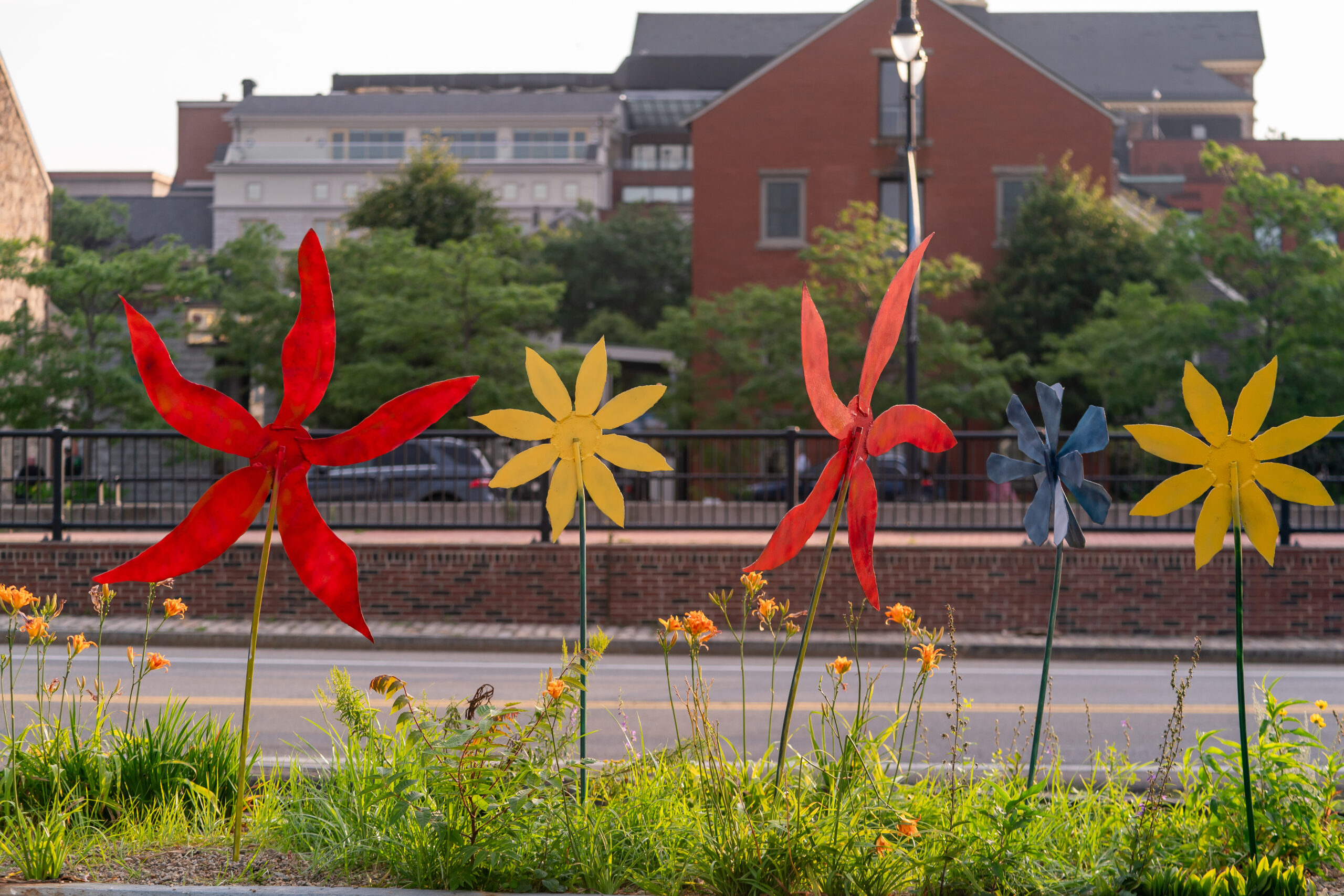 Jessica Bregoli, "Emily's Bouquet" (2023): An intricate floral arrangement that pays homage to the beauty and transience of nature, honoring the person who helped spark Bregoli's imagination along the waterfront. From the artist: "Ever since I was a kid, Emily Johns and I tended these garden beds. This site-specific sculpture is in the place where we named it the 'Serendipity Garden.' We always had the hardest time getting anything to grow here. So, in turn, this bouquet of flowers will never wilt or lose its color. There will always be something in bloom here for Emily as well as the onlookers. The Seaport Art Walk was created while I was in College at UMASS Dartmouth in the sculpture department. During this time, I was still helping Emily Johns as often as I could at the waterfront garden beds.  I was also working at Seastreak part time so I was at the waterfront mostly every day for one reason or another. One day while we were gardening Emily said 'Wouldn't a sculpture look so great here?' talking about our Serendipity Garden spot. In college one of the most common things I heard from people was 'Can't you do this for free? It will be great for your resume!' Then all of a sudden when Emily said that it clicked! Let's pay artists for their time and materials! From that idea we made it into international and local news stories and continue to show the world all the amazing talented artists year after year."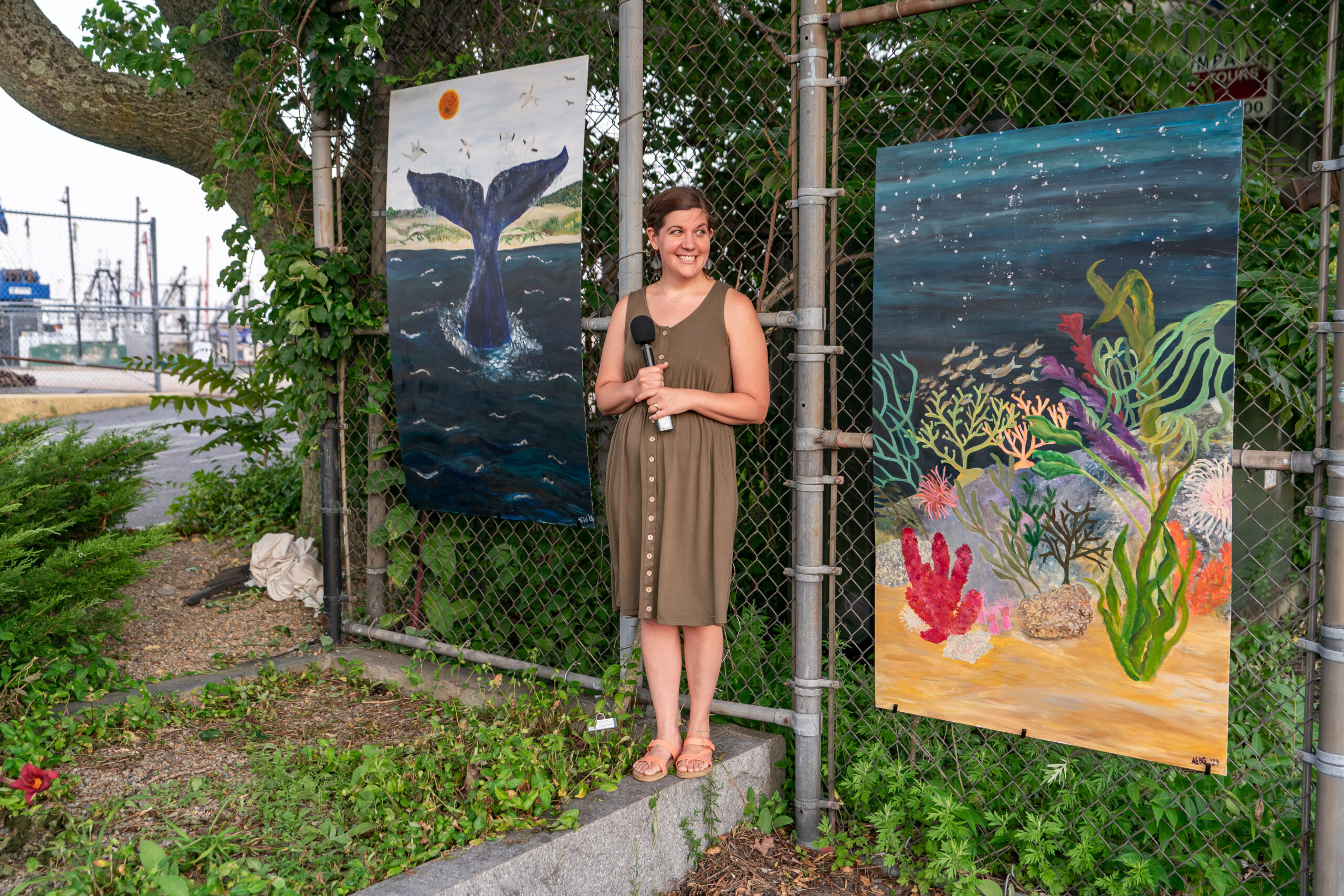 Alana Berman-Gnivecki, "Up Above and Down Below" (2023): A thought-provoking installation that juxtaposes the terrestrial and celestial realms, encouraging contemplation of the interconnectedness of all things. From the artist: "Every time I start a project, I study the botany, biology, and geology of my subject – all the -ologies, really – because, while I want my pieces to be beautiful, I also want them to be accurate. Art brings science to life and inspires people to connect to the natural world around them; when we understand more about our natural surroundings, we care more, we preserve more, and we become stewards for a future healthier world. In illustrating the marine ecology and habitat of Buzzard's Bay and the Greater North Atlantic, I hope to illuminate the diverse beauty of our terrestrial and oceanic homes. My panels incorporate crushed mica from sediment in Maine to catch the glimmer of cresting waves and flecks of light underwater. I depict colonies of northern star coral, known for its resilience to climate change and ability to survive coral bleaching; bubblegum coral, which holds promise in the field of proteins for biomedicine; and sea lettuce and kelp, which offer food, shelter, and nursery to a diverse range of sea life. The roseate terns and northern gannets, birds that depend both on healthy skies and healthy seas, and the diving whale represent the bond between these two interconnected worlds: 'Up Above and Down Below.'"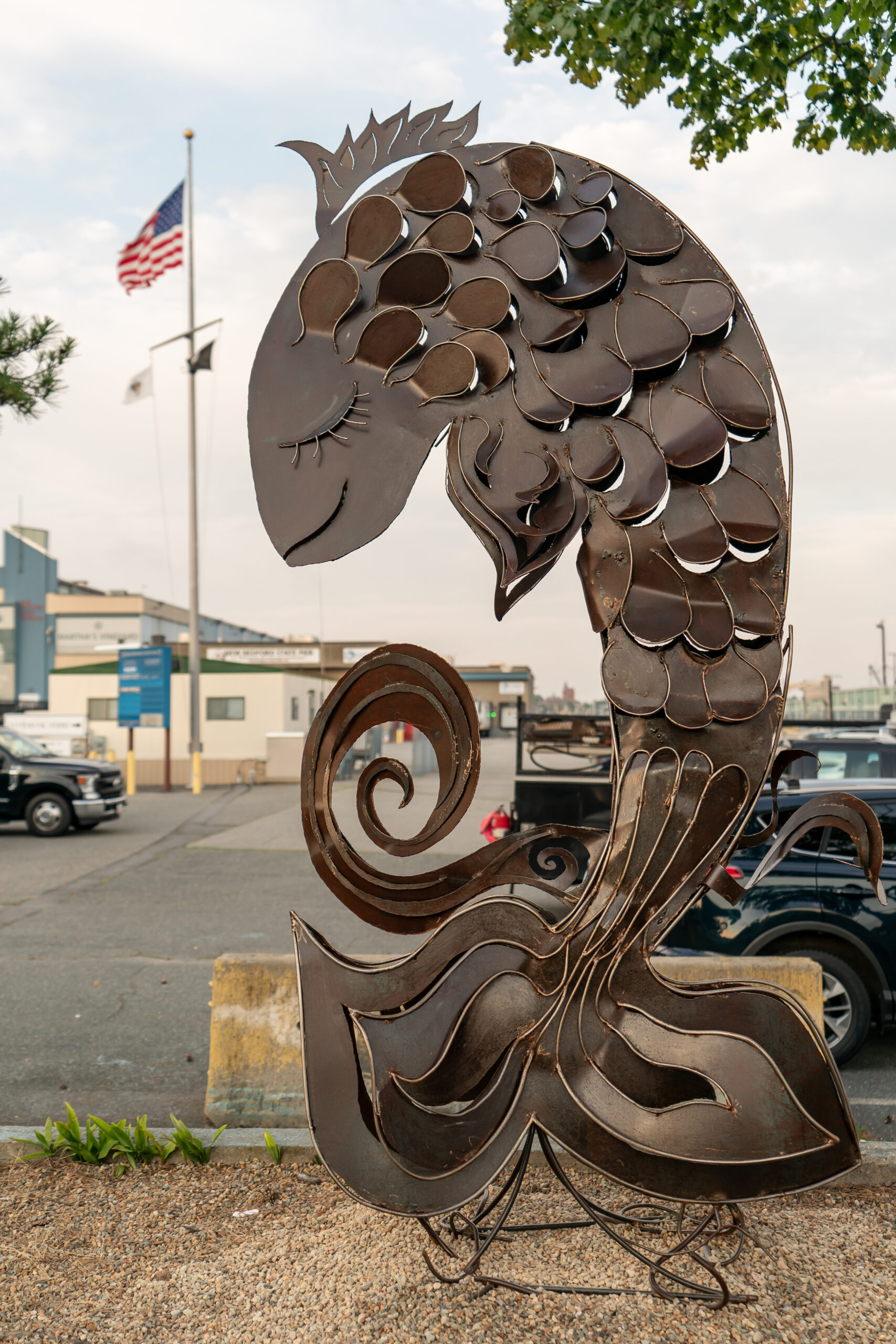 Heather Cronin & Andrew Reiss, "What You Sea" (2023): An immersive art installation that explores the interconnectedness between humans and the sea, urging viewers to contemplate their relationship with the marine environment. From the artist: "'What You Sea' explores the flowing connection between humans and the sea, hopefully bringing viewers compassion and peace."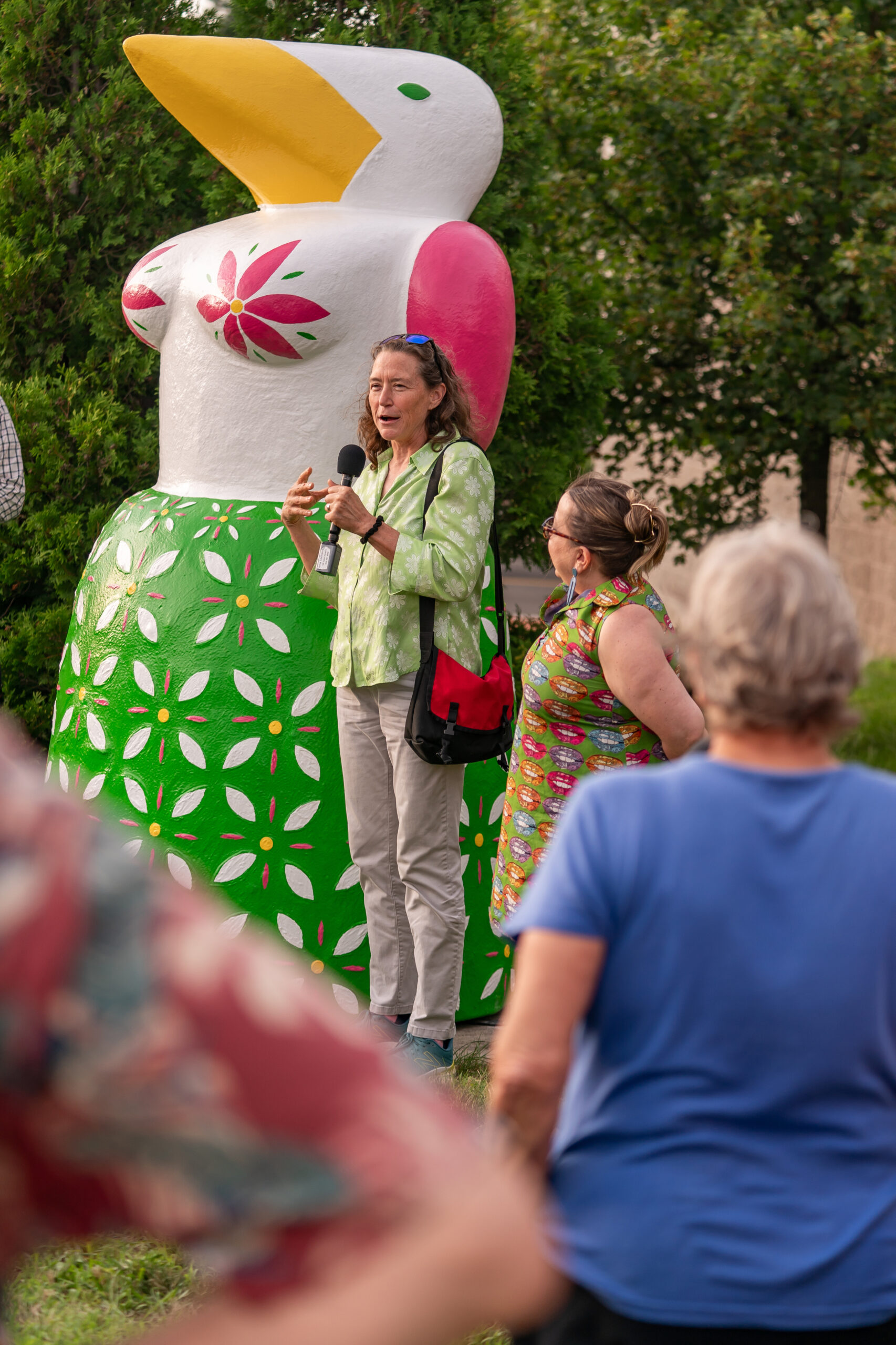 Donna Dodson, "Seagull Cinderella" (2016/2023): A provocative piece first seen ruffling some feathers at the 2016 Seaport Art Walk, celebrating all things feminine, maternal, and fun. From the artist: "'Seagull Cinderella' is as common as the birds we see at the beach. Yet she is uncommon, like Marilla in Anne of Green Gables, corseted and bound by the sweet virtues of her character. Her full length gown is alive with neon daisies and flower power! This piece is celebrating a common sea bird as the American mythic princess, Cinderella."
Mandy Fraser, "Secret City Whale Pod" (2023): A whimsical and enchanting mural installation featuring a pod of majestic whales, capturing the imagination of all who encounter them. From the artist: "These whales are an homage to the city of New Bedford. They are created out of words that represent the fabric of our city. The words are a direct reflection of our community as they were collected from the public at 5 different city events last summer and are answers to the question 'What Do You Love About New Bedford?' The answers speak volumes to the love and heartfelt passion that people have for our little city by the sea as well as reflect our rich culture and history. I am grateful that my piece was chosen for the 2023 Seaport Art Walk."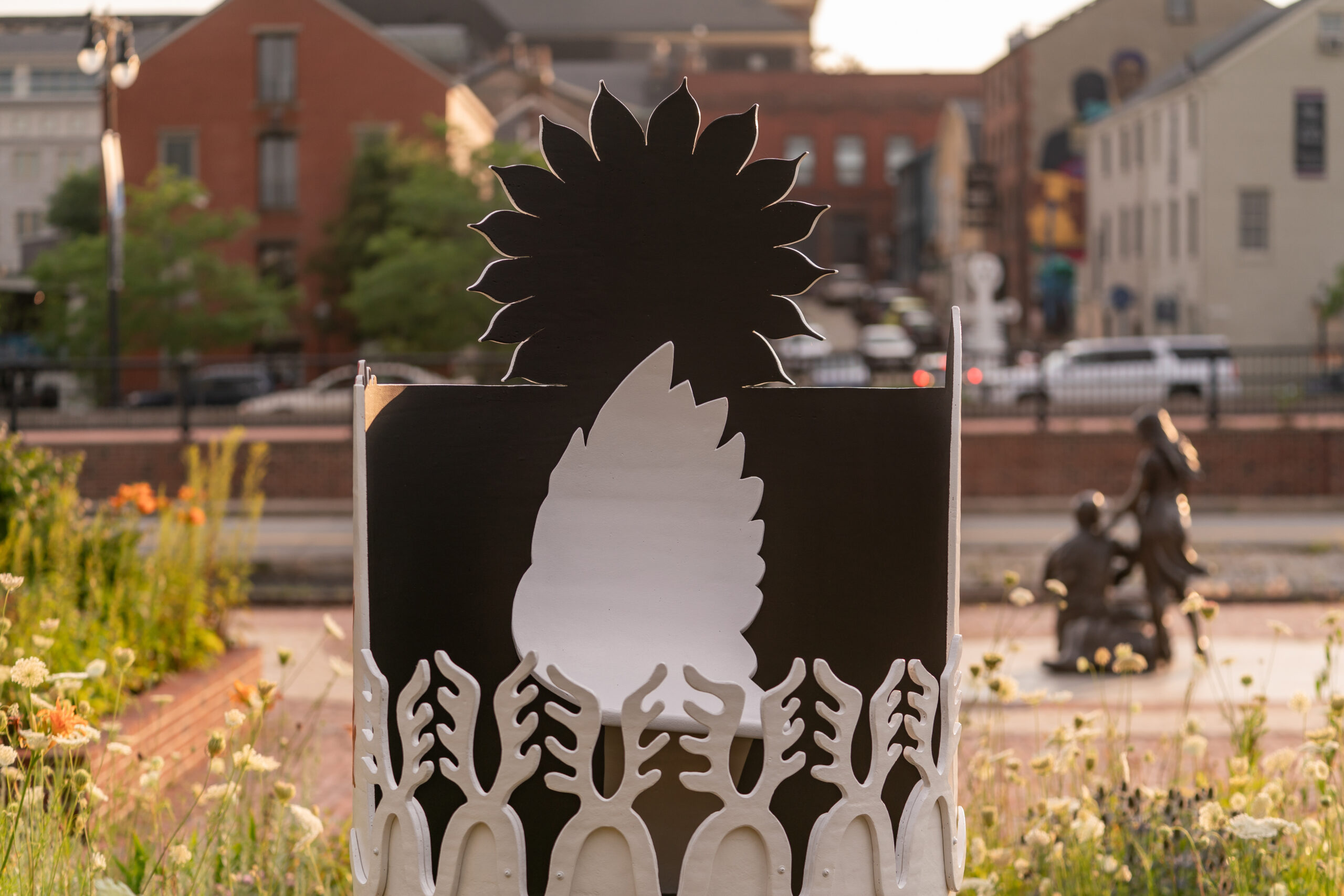 Eric Lintala, "Memories Carried On A Wing, Homage to The Wampanoag Nation" (2023): A dramatic work that fuses both past and present, conveying a hopeful future through the many stories and memories of the Wampanoag Nation. From the artist: "The Wampanoag Nation have undergone a very difficult history after assisting pilgrims in the early 1600s. There were once 67 distinct tribal communities, today only 6 remain. The influence of the Wampanoag Nation can still be felt throughout southeastern Massachusetts, environmental practices and values that were taught to the settlers long ago still help inform all of us today. The large figure on the front side of the sculpture represents Massasoit, chief of the Wampanoag Tribe at the time when the pilgrims first landed in Massachusetts. The large circular feathered headpiece is taken from an early undated engraving of chief Massasoit. The figure is flanked with painted images of handprints representing those that came before, a timeline represented by rectangular shapes along two parallel curving lines, and two zig-zag designs on the figure were taken from Native American clam shell belts. The backside of the sculpture is represented by a series of six small wings rising and a single large wing emerging from the dark interior of the cylindrical form, conveying a more hopeful and bright future with the many stories and memories of the Wampanoag Nation.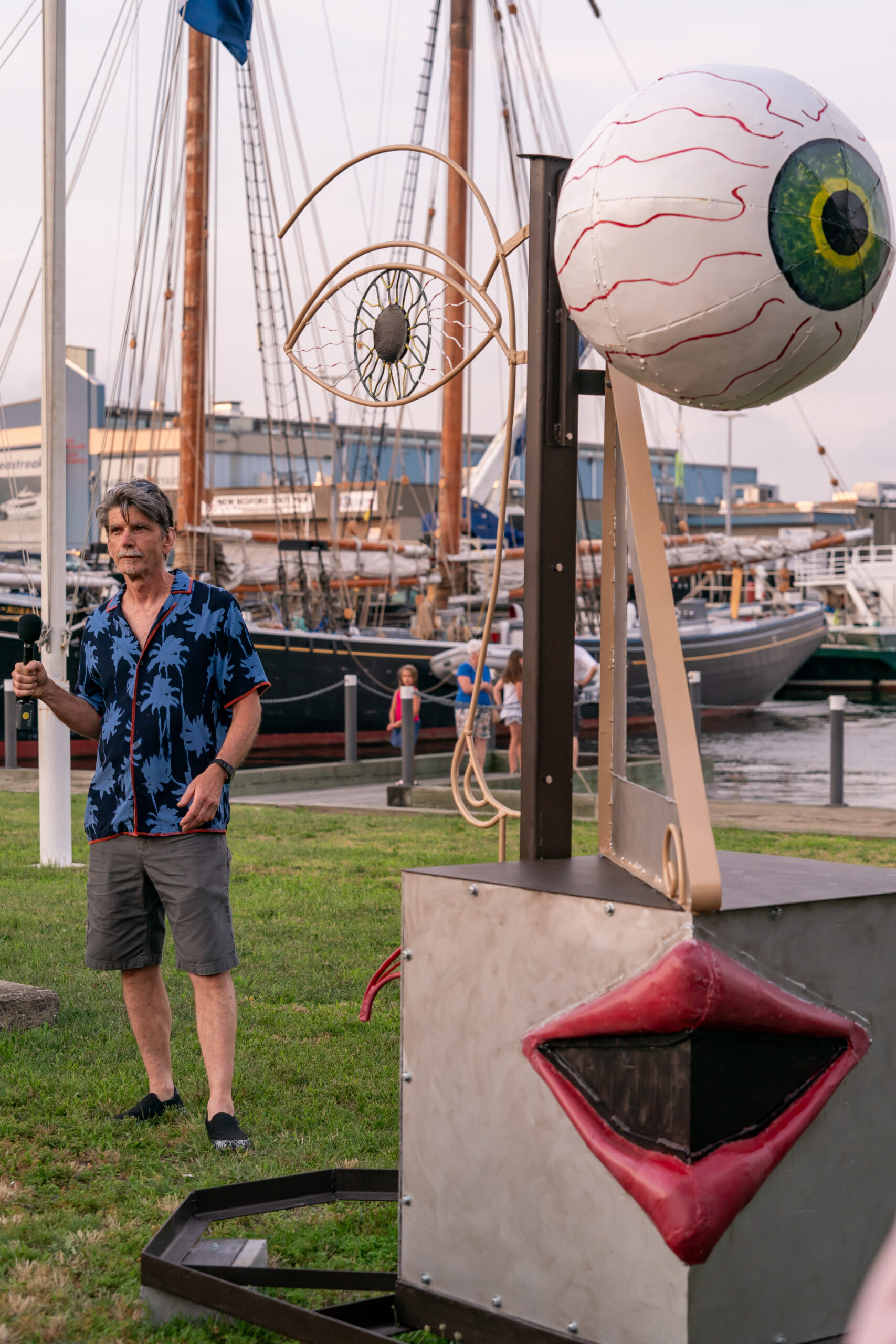 Ed McAloon, "Driven to Abstraction" (2023): An abstract artwork that challenges conventional perspectives, inviting viewers to explore the limitless possibilities of artistic expression. From the artist: "My work entitled 'Driven to Abstraction' describes the current path that my journey in sculpture has taken. As most artists, much of my earlier work in different mediums was representational and much was two dimensional. I transitioned to 3 dimensional pieces in steel some time ago, but recently have approached my work in a more improvisational way, yielding more abstract forms and themes. This work distills this path from 2 dimensional representation to 3 dimensional abstraction that I and many artists before me have taken."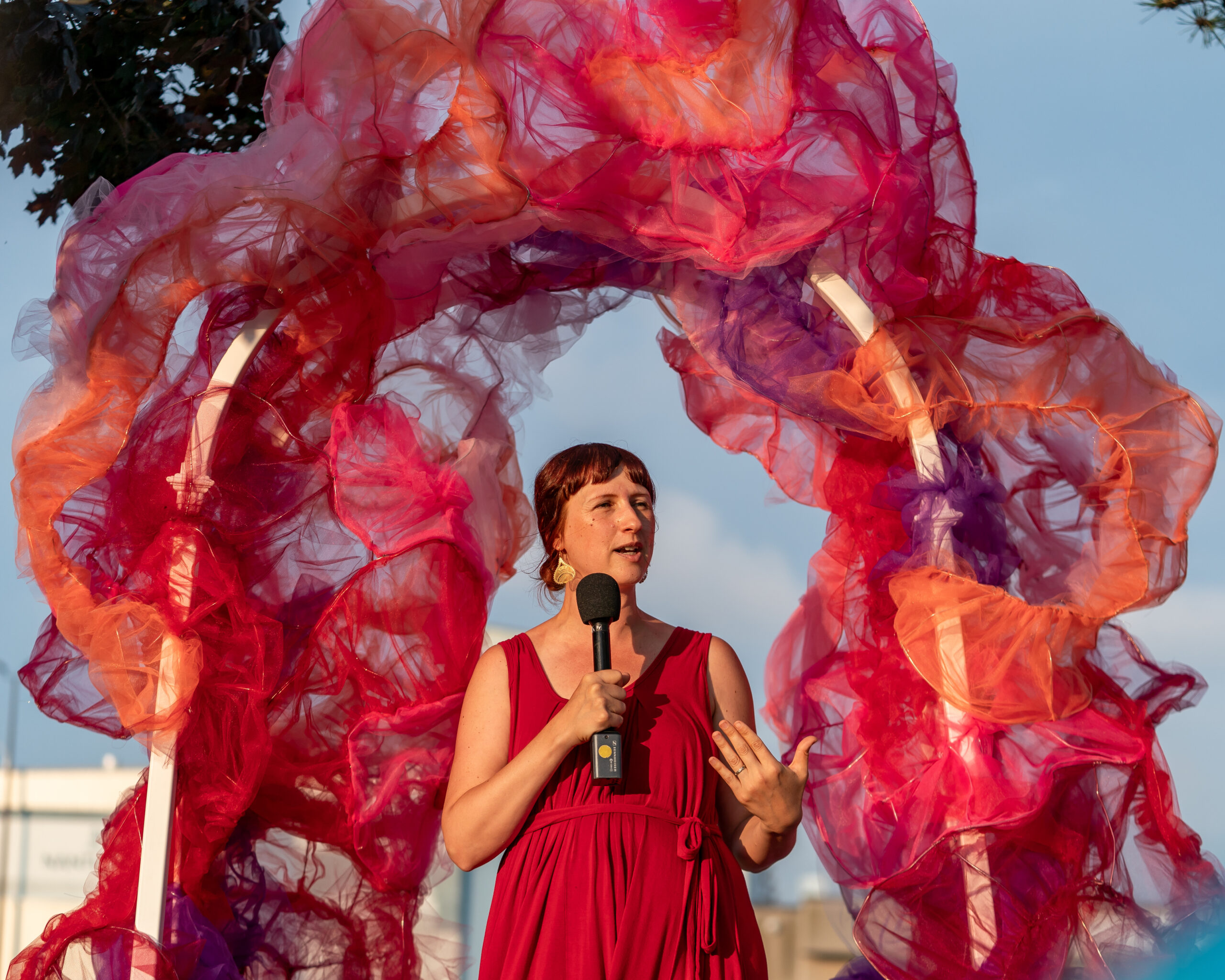 Brooke Mullins Doherty, "Vibrant Passage" (2023): A visually stunning piece that uses vibrant colors and dynamic forms to evoke a sense of movement and energy. From the artist: "'Vibrant Passage' is a portal, something that draws awareness to the moment of passage through time. It is not about where you are going so much as the journey, and it illuminates possibilities that are profound, glorious, diaphanous, and utterly ephemeral. Nonetheless, they have substance and meaning in the moment. The sculpture is made of translucent fabric sewn to wired panels, and thus its vibrant colors will also change with the colors of the sky. This means that each moment of experiencing 'Vibrant Passage' will also be unique, which will heighten its purpose of celebrating the passing moment in time. The outer frame is composed of whorled shapes that resemble the movement of wind and water, appropriate to its placement outdoors along the coastline."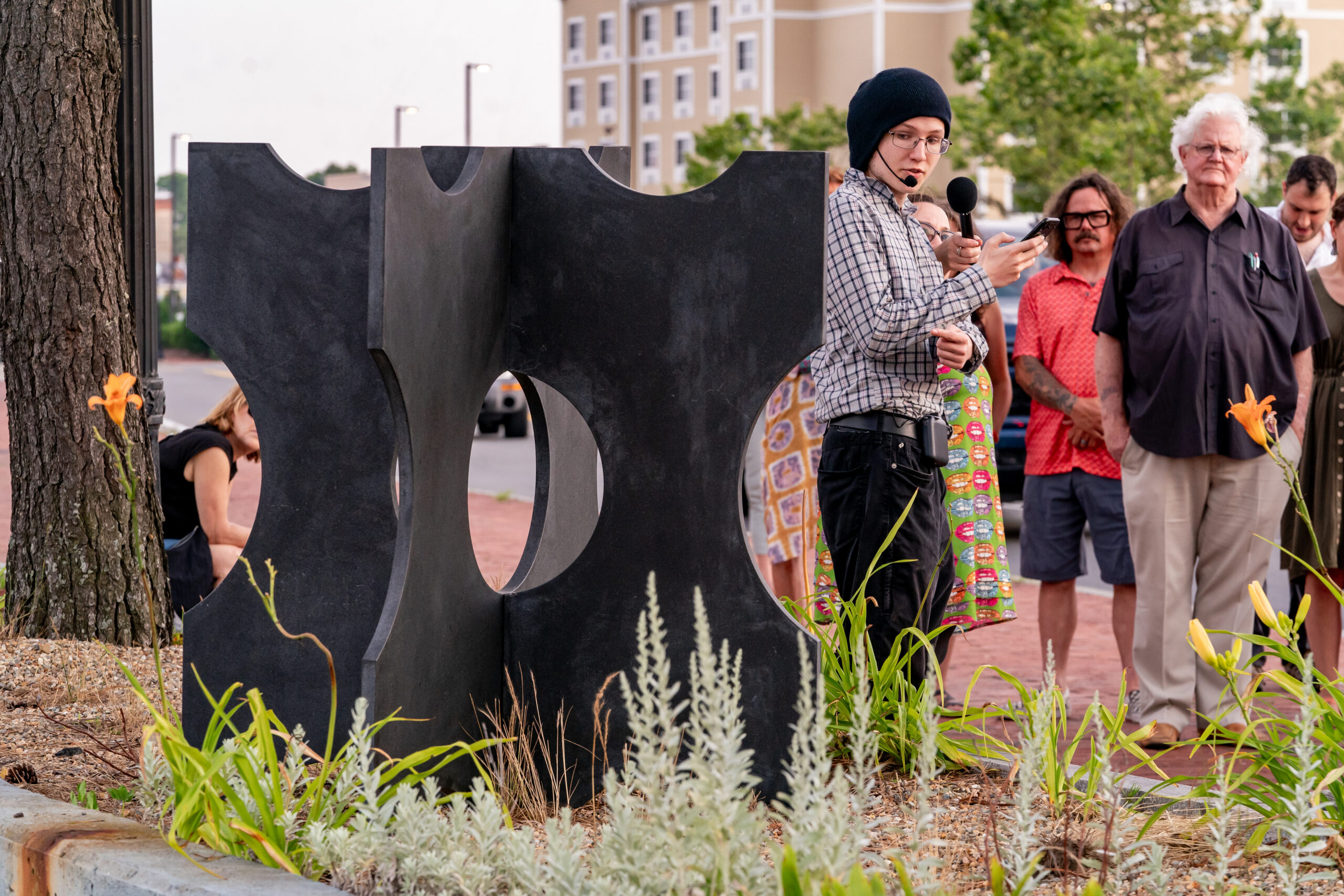 R. Douglass Rice, "Solidarity" (2020): A powerful representation of unity and resilience, embodying the spirit of the New Bedford community. From the artist: "After George Floyd's death in the spring of 2020, millions of people worldwide came to together to protest his killing at the hands of police. Demonstrations all over the country demanded that the violence and killing of Black people stop and that police be held accountable for their actions. In my small town of Stonington, Connecticut, we attended weekly demonstrations in support of the Black Lives Matter movement. At the end of June 2020, a Black woman named Crystal Caldwell was viciously beaten and called racial slurs by a racist couple staying at the motel where she was working at the front desk. Stonington police allowed this couple to leave the state but they were apprehended two weeks later in New York. Hundreds of people demonstrated weekly calling for the arrest and trial of the attackers. Caldwell's courage and these events inspired me to create sculpture to honor the Black Lives Matter movement. The circles in the middle unite to signify a unified whole."
As a further celebration of the Seaport Art Walk's 10th anniversary, this year's exhibition also includes an indoor component, displayed at the Groundwork Gallery at 1213 Purchase Street. The indoor exhibition includes work from the following artists:
• Beatrice and Elaine Alder
• Sonia Brito
• Mark "Boston Maki" Carvalho
• Erin Collins and her students at Normandin Middle School
• Ramiro Davaro-Comas
• Donna Dodson
• Mandy Fraser
• Jacob "MakerJake" Ginga
• Mark and Lily Gleicher
• Charles Hauck
• Troy Henriksen
• Bob Kephart
• Kat Knutsen
• Grace Lang
• Michelle Lapointe
• Eric Lintala
• Erin Meade and her students at Keith Middle School
• Zachary Meunier
• Jasmine Milton
• Mia Pinheiro
• Eli Portman
• Fidel C. Sincu
• Josh Souza
Most artworks displayed at the Groundwork Gallery are available for purchase.
Seaport Art Walk Archives
2022: Open Spaces
For 2022, artists were invited to submit proposals reflecting this year's theme – "Open Spaces" – artwork that reflects or comments on the idea of creating open space for our minds and our souls, like the wilderness, the vast ocean, meditation, parks, nature, and opening ourselves to healing and love. Artworks could also address questions, such as: 
How do we create open space to breathe and build community?

How do we create open space to build connection and unearth or rediscover joy?

How do we create open space for our community to dream, envision and embody a more just future for all of us?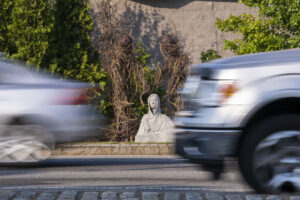 Jessica Bregoli and Jessica England, "Reconnecting": Our Piece "Reconnecting" represents our need to get back in touch with nature. Not being in nature and open spaces is detrimental to our well-being as a whole. During the past few years, we have lost touch with ourselves and simply being outside in nature. We have been isolated and absent from our own communities. Now we are at a time where we are relearning how to be out and connect with others again. The centered seated figure is in a lotus pose which represents our need to balance ourselves. The two figures on each side are plant humanoid and represent nature. They are reaching out to the figure to invite us to reconnect with the world.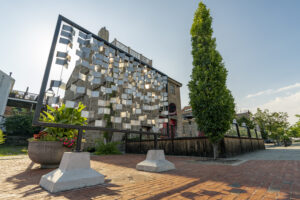 Keith Francis, "Glittering Patterns": Open ocean reflecting "glittering patterns" of sunlight. New Bedford's past, present and future is beholden to the ocean. The name "glitter pattern" implies a moving and changing phenomenon. Glitter patterns consist of many bright points of light that come and go, blending together to form a smooth path of glittering light when viewed at a distance. If you look closely at a glitter pattern, you can see individual points of light. Each of these points of light is a specular reflection of the sun, called a sun glint. Glints occur on the water where the local slope provides a direct specular reflection of the sun. Staring at the ocean actually changes our brain waves' frequency and puts us into a mild meditative state. A study published in the American Association for the Advancement of Science's journal even found that blue is associated with a boost of creativity.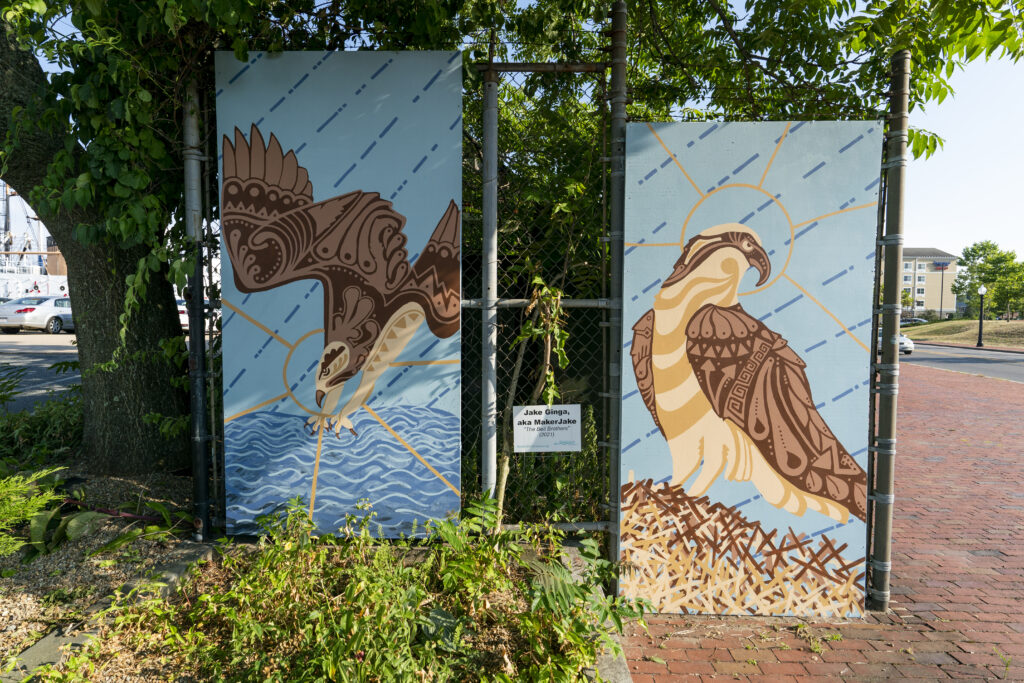 Jacob Ginga, "Another Year, An Osprey's Story": In 2021 I painted murals here of two beloved friends and local fishermen who passed away. This year I repainted those same panels with the images of two Osprey, migratory birds of prey. It feels appropriate to reimagine them as Osprey, a bird that roosts all around the area where we used to farm shellfish together. "Another Year: An Osprey's Story" symbolizes the changing of seasons when the birds return to New England, build their nests, and start families. It also marks another year the world turns without Ben & Grampa Ben in it. Another year we have to learn to fly without them.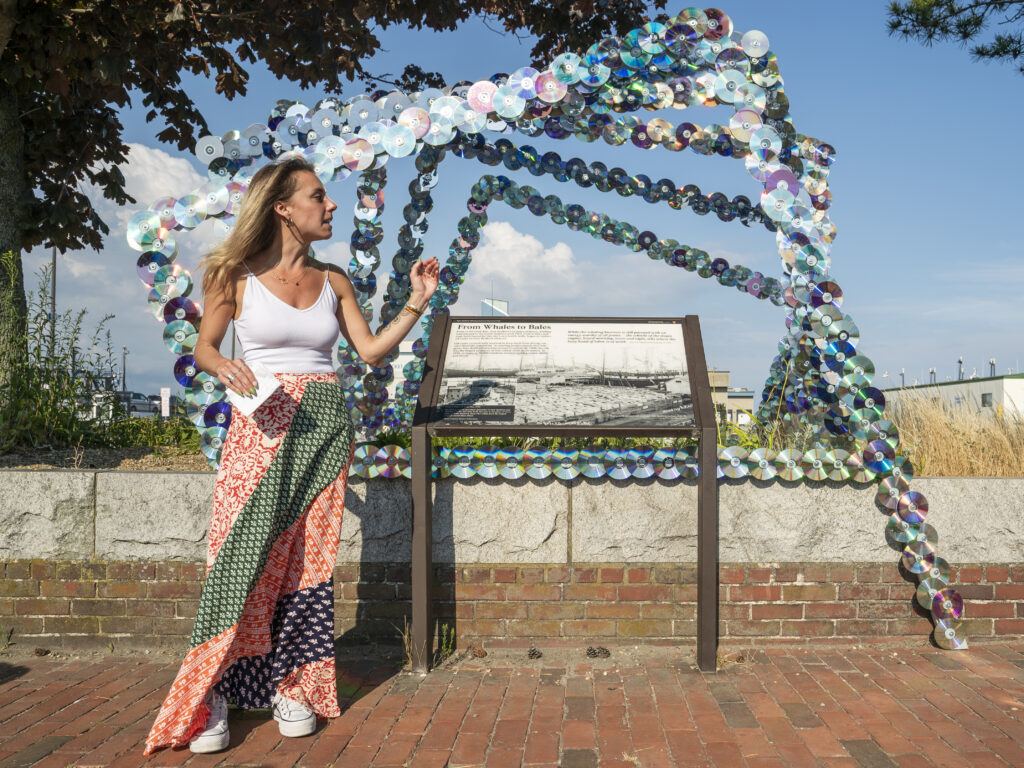 Erin Meade, "Mirrored Iridescence": This year's theme incorporates open minds, souls, and healing. My first thought was reflection. How can I incorporate unconventional materials with this year's theme? This installation is inviting, creates an open space, and is also interactive. Using recycled CDs creates a variety of colors and reflects the light vividly. As an unconventional artist, it's interesting to see my process from paper turn into a work of art. The meditational arches invite your mind to become more open to an iridescent experience.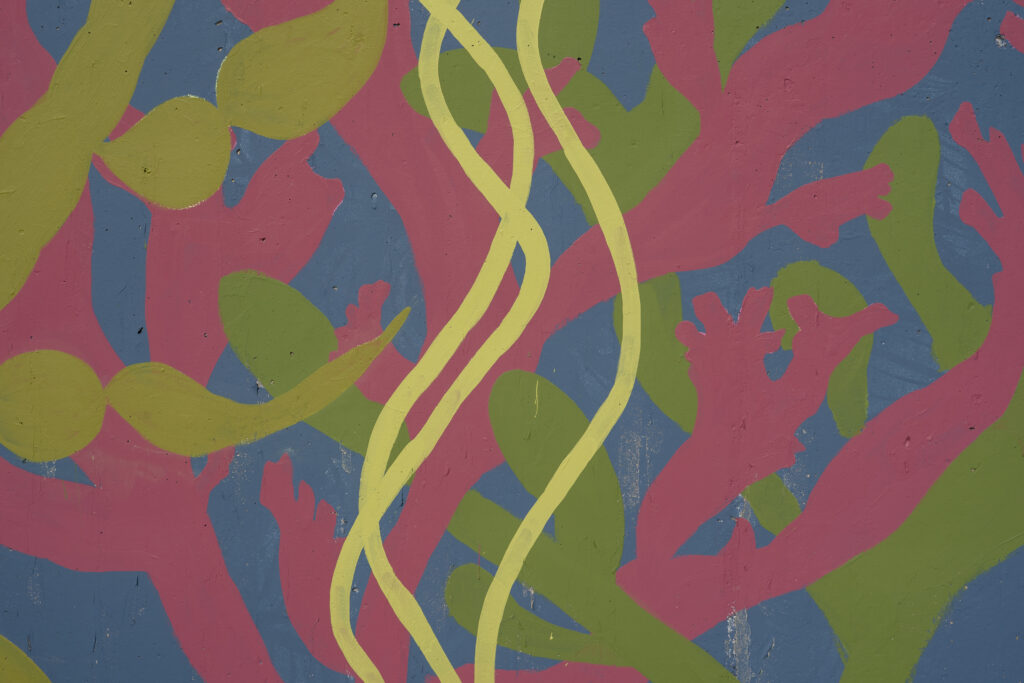 Collin Wetzel, "A Discovery of the Native Algae, Seaweed and Kelp": One of our most beloved Open Spaces happens to be the shoreline, marshes and beaches we visit. I often look at the minute details in our surrounds and have been working on a series based on local natives such as those commonly named Irish Moss, Bladder Wrack, Spiral Wrack, Dulce or Sea Lettuce. The many species of algae, seaweed and kelp provide shelter and breeding for many native crustaceans, fish fry and other microorganisms. What surprised me during my study was the many uses these important and often overlooked species have provided over the years. Some species were great sources of iodine, gelatin for cosmetics and food, a thickening agent, stabilizer or alternative sugar substitute. Others were used for treating goiter, joint pain and swelling and even fertilizer for crops. With my mural I hope to highlight the minute details, magnify them and possibly make those who enjoy our shores to take a closer look at the diverse intricate beauty right at our feet. My mural for the retaining wall below the upper level parking of the ferry terminal below the Nantucket and Vineyard Ferries Sign features a background of slate blue to reflect the color of the ocean, olive green, muted-red/coral for the seaweed, Algae and Kelp.
Seaport Art Walk through the Years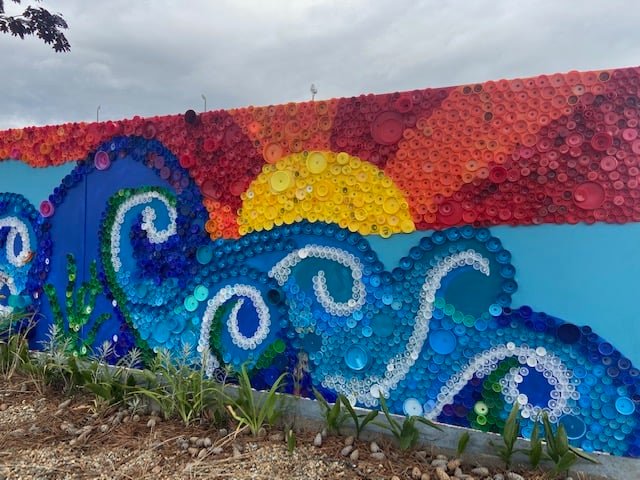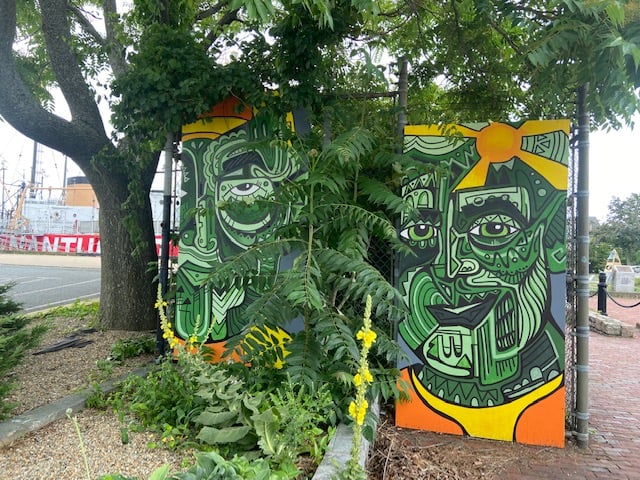 2021: Tides and Time
Alanna Boucher on her "Hashtag Change" sculpture: "Change is constant. Today we must reach the young generations who will shape our future. This hashtag sculpture is here to bring awareness to ideas and topics teens find important.  Change is a constant evolution of remembering old ways and supporting the new; whether it is about taking care of the planet, ourselves, or helping others, change is growth. Time is not going to stop or slow down so we must keep pushing everyday to better this world and work towards changing the future for generations to come. Please share what you want to bring awareness to on social media and remember to hashtag key words from this sculpture to spread awareness. Thanks to Chris Boucher who helped build and install the sculpture and to the New Bedford High School students and art teachers who designed planks."
Marcus Cusick and Kyle Couture of Open Eye Movement, working with Chief George Spring Buffalo and Chief Daryl Black Eagle of the Pocasset, presents "The Heirs of the Land," a mural that brings to light the true histories that surround the Pokanoket nation. The Algonquain language was nearly lost to oppression of a people and their culture, and is kept alive today by the descendants of a nation who first greeted the pilgrims, The Pocasset Wampanoag tribe of the Pokanoket nation. The mural aims to depict portraits of local Native American chiefs and their descendents showing how, over time, the nation was resilient and able to survive. The backdrop includes a landscape composition of layered text of Algonquin words and titles.  
When Jake Ginga was 19 he got a job working for a small oyster farm run by a family who had been shellfishermen for over four generations. They taught him everything — about family, hard work, and aquaculture — at an age and time he needed it most. January of 2021 claimed the lives of two of them, the father and grandfather who were both irreplaceable father figures. His very first artwork displayed in New Bedford galleries were portraits of them. In an attempt to process his grief, he is creating portraits of them again entitled "The Bell Brothers." 
Eric Lintala's fiberglass and metal sculpture titled "Enough is Enough" represents many aspects of this year's theme, "Tides and Time." Eric says: "There are many injustices that still plague our country and that exist around the world. We make speeches, we march for human rights, social injustice, environmental issues, etc. and still the never ending fight goes on. My sculpture symbolically represents all people and all concerns and hardships we bring to ourselves and to this planet, it visually gestures ENOUGH IS ENOUGH!"
Not part of this year's exhibit, but a fixture at the bottom of Centre Street is Eric Lintala's work "I am the Walrus, I am the Hunter." Lintala, who recently retired after over 30 years teaching at UMassD College of Visual and Performing Arts, originally created this 15-foot fiberglass and aluminum sculpture in 2010 as part of the New Bedford Whaling Museum's outdoor sculpture collaboration called "In the Unequal Cross-Lights," inspired by a passage from Moby Dick. He drew inspiration from the Whaling Museum's collection, combining imagery such as a harpoon, a hand-carved walrus mask from the arctic region, a two-sided ivory comb that evoked skeletal whale vertebrae, snow goggles, and a wooden spoon of unknown origin. He said: "For me, these objects magically coalesced into a shamanistic manifestation of a whaleman's past arctic adventures." 
Erin Meade, an art teacher at Keith Middle School in New Bedford, has always loved the simplicity of window installations. She put her passion for display and creativity to good use working in New York City with industry favorites such as Macy's, SAKS Fifth Avenue as well as small boutiques. Her design of a 30-foot installation entitled"CAPping the Wave" incorporates all different types and sizes of plastic bottle caps to create movement and playfulness through a wave and whale form. This is a recycling project that the students of Keith Middle School have contributed to, as well as an opportunity to show the community that even trash can be turned into a beauty.
2020: Lighting the Way: Historic Women of the SouthCoast
• Jessica Bregoli, "Maria Mitchell's Waves"
• Bruce Bailey, "Homage to Florence Eastman, Army Nurse"
• Ramiro Damaro-Comas, "Lighting the Way Mural"
• Grace Lang, "Votes for Women"
2019: Whirlwind of Art
• Elizabeth Bell, "New Bedford Clothesline"
• David Cardenas, "Lost in the Wind"
• Laura Franco, "Triptych of Thaumatropes"
• Alesia Guzman, "Winds of Hope"
• Bianca Laslo & Paige Smiley, "Wind in Mind"
• Melony Poirier, "Cat's Tail"
2018: Freedom & Equality: the Bicentennial of Frederick Douglass
• Tracy Silva Barbosa, "Same Window, Different Day"
• Julie Bardon, "Log Cabin"
• Alanna Boucher & Jessica Bregoli, "The Weight of History"
• Justin Cifello, "Mixed Messages: Beacons of Welcome, Windows for Those Yearning to Breathe Free"
• Donna Dodson, "Madam President: A Monument to the First Female President of the USA and to the Dream that Every Girl can become the President of the USA"
• Eric Lintala, "Shackles Broke – Free at Last"
• Melony Poirier, "The Missing Piece"
• Lauren Savoia & Youth Leadership Academy, "YLA Fight for Freedom and Equality"
2017: Sustainable Oceans
• Julie Bardon, "Salacia: Goddess of the Sea"
• Alanna Boucher, "Ocean Spirals"
• Boys and Girls Club of New Bedford, "Sea Trash Jellyfish: Cleaning UP by Creating Awareness!"
• Jane Bregoli, "Unbalanced Cairn"
• Jessica Bregoli, "Fukushima"
• Sam Brun, "Dirty Waters"
• George Carmo, "Rising Tides"
• Justin Cifello, "The Web"
• Timothy Ellis Cole, "Field Rotation Mural"
• Marcus Cusick & Lauren Savoia, "Surviving Through Sustainability"
• Charles Hauck, "Fish Mobiles"
• Alex Jardin, "Mooring Buoy No. 1"
• Ann Jochnick, "Save Your Treasures Here"
• Eric Lintala, "New Bedford Rising"
• Victor McCall-Scott, "Shark Fin Soup"
• Devin Messenger, "Weathered Times"
• The Myth Makers (Donna Dodson & Andy Morlein), "Widow's Walk"
2016: Cultural Aspects
• Tom Bob, "Looking for Love" and "Octopus"
• Michelle Borges, "Good Luck"
• Jessica Bregoli, "Gateway"
• Donna Dodson, "Seagull Cinderella"
• Charles Hauck, "Red Tail Hawk" and "Sacred Scrod"
• Eric Johnson, "Whalesman Fist"
• Eric Lintala, "Gulls"
• Joe Reis, "John's Garden"
• Alanna Schull, "Escaping to Freedom"
2015: Nautical Nuances/New Bedford Works
• Michelle Borges & Jessica DeMedeiros, "Progress"
• Jessica Bregoli, "Emily's Flowers"
• Marcus Cusick, "Hook and Barrel"
• Donna Dodson, "Moby Dick"
• Patricia Flynn & Jacqui Luca, "Sounds of New Bedford"
• Eric Lintala, "Shadow Moments of a Time Gone Past"
• John Magnan, "Habitat"
• Mark Phelan, "Oarlock"
• Joe Reis, "Journey Home"
• Alanna Schull, "On the Horizon"
2014: The Sea in Stone
• Talitha Andrews
• St. George Tucker Aufranc
• Jeremy Baker-Smith
• Michelle Borges• Jessica Bregoli• David Burr• Marcus Cusick
• Sarah Lopes
• Amanda Marie
• Mark Phelan• Adrian Poole
• Joe Reis
• Alanna Schull
• Brett Sylvia
2013: Inaugural Year
• Talitha Andrews
• St. George Tucker Aufranc
• Jeremy Baker-Smith
• Michelle Borges
• Jessica Bregoli
• David Burr
• Marcus Cusick
• Amanda Kralovic
• Sara Lopes
• Mark Phelan
• Adrian Poole
• Joe Reis
• Alanna Schull